BOTR Provides Authentic Learning Experiences to Serve Others and Take Action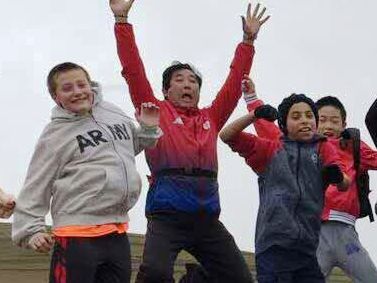 Grade 6 went to the grasslands of Bashang. With song, dance and a blessing of tea, they were exposed to new customs and traditions of the people from Inner Mongolia. By day, they hiked and played capture the flag. Students commented on how much garbage was scattered all over the ground: plastic bags, bottles and empty boxes. To protect the environment and develop an active role towards saving the planet, students collected the rubbish and filled up garbage bags, carried these bags on their hike, and properly disposed of them at the lodge. They all learned that developing responsible and respectful skills not only helps them, but also impacts those around them and the environment. Thank you to Ms. Kim, Mr. Wang, and Mr. Langille.
Grade 8 visited an environmental center in Miao Liang 庙梁 and Beijing botanical gardens. They climbed a mountain, crossed streams, encountered insects, and sketched their observations. Students also identified plants and animals, made paint from plant extracts, and created beautiful artwork. The teamwork and bonding was great to see throughout this week. Big thanks to Ms. Burslem, Ms. Li, Dr. Qadri, and Ms. Davies for their help and support.
The students from Grade 9 visited Nanjing and had two main aims for the trip: 1) develop themselves as open-minded, caring, and communicative IB learners through SAA and 2) observe and gather evidence for a project related to the Individuals and Societies curriculum. The global context of Orientation in Space and Time guided the process of inquiry as they observed the city not simply as tourists, but as explorers, learners and scholars. Their inquiry was based on the concepts of change, innovation, and civilization.
For the SAA component, students designed, developed, and facilitated activities for members of The Home of Blessings, a community center and life-skills programme for adults with learning disabilities, and delivered inquiry-based English and Maths lessons to 4th graders at The School for Children of Migrant Workers. Appreciation to Ms. Pao, Mr. Spivey, Mr. Smith, and Ms. Mei for their guidance.
The year 10s went to Huanghuacheng, where our students participated in experiential learning and were challenged mentally and physically through hiking, teambuilding activities, camping, cooking, personal reflection, adventure racing, and more! Through nightly debriefs and journal entries, students reflected on the new BISS Advisory Programme, including personal values and character traits that they identified as necessary to create a harmonious world. Students created a photo journal of their experience as they went. At the conclusion, students had connected with new friendships and enriched existing relationships. Thank you to Mr. Baker, Ms. Atkins,
Mr. Saunders, and Ms. Nishimoto.
Grade 11 BOTR went to Inner Mongolia—a land of infinite grasslands, horses and blue skies. We partnered with "Roots&Shoots," an NGO focused on saving the area from cattle over-grazing, global climate change and expansion of the desert. We planted trees, measured sample plots, and provided data to try to stop and reverse the desertification process. The first day we found mostly dead plots and became pessimistic. It was depressing to see that most of the trees were dead or barely surviving, but when we encountered a plot with tall, healthy trees their spirits were lifted.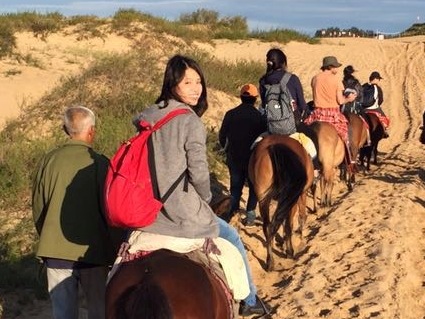 We also went to a sand dune "amusement park", where we could ride camels, horses, quad bikes or dune buggies. We not only had a great time, but also engaged in a meaningful activity with people that try to make our world a better place to live in, one tree at a time. Special thanks to Mr. Karasik, Mr. Bahilo, Mr. Burslem, and Mr. McDonald.
The focus of the Grade 12 trip was to provide tangible examples of each of the CAS (Creativity, Activity Service) Learning Outcomes:
1. Increased awareness of your own strengths and areas for growth
2. Undertaken NEW challenges
3. Planned and initiated activities
4. Work collaboratively with others
5. Shown perseverance and commitment in your activities
6. Engaged with issues of global importance
7. Considered the ethical implications of your actions
8. Developed new skills
and link our actions to the IB Learner Profiles. Whether it was travelling by overnight train on a "hard sleeper", working in a soup kitchen to feed the homeless of Xian, hiking for hours through the rain testing our physical endurance or designing and teaching lessons at an orphanage, at almost every turn, our trip to Xian enabled us to learn from each other as CAS students and challenged us to live out the Learner Profile. In the remainder of the year, we will be working to put what we have experienced into meaningful action through our CAS projects and experiences. Appreciation to Mr. Lindner and Ms. Long.