The PTA (Parent Teacher Association) is a volunteer association consisting of BISS parents and teachers. The PTA volunteer and fundraise to provide classroom assistance, sponsor learning enrichment activities, improve the school campus, and provide ways for students, parents and teachers to come together as a community.
Our Mission
We want to mix and combine the talent and energies of our parents, teachers and staff, to create a stimulating, caring and enriching environment that enables children to become life-long learners, and attain personal excellence and positively impact the world.
Our Goals
Reflect the diversity of BISS through our membership. Use all resources available to reach the common goal of making BISS a caring and safe environment that is conducive to learning.
Promote open, supportive communication among staff, students and the community.
Encourage parents to be partners in their children education.
Provide the opportunity for volunteers to plan, organize and sponsor extracurricular activities and events.
Act as ambassadors of goodwill for the school, promoting BISS to the broader community.
Raise funds for school activities and events.
The Parent Teacher Association plays an active role in the school community by organizing events such as community lunches and dinners, bowling nights, Kite fair trips, book fairs, fund raising for charity organisations, and taking part in the International Day celebrations. We invite all BISS parents to join and take part, both in the Association and BISS activities. It is a great opportunity for interacting and getting to know and share experiences with other parents who may be new to Beijing!
School Liaison: Please email the PA to the HOS.
FAQs (Frequently Asked Questions)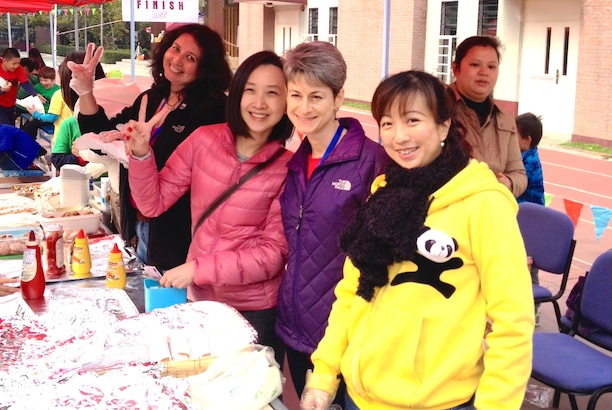 1. How can I join the PTA?
All parents and teachers are automatically members of the BISS PTA. Getting involved is simple: Come to PTA meetings and events, volunteer in and out of the classroom, and lend your time and talents to the BISS community.

2. I'm a newcomer to Beijing. I don't know anything about the city. Is it really useful to join the PTA?
Welcome on board! We know at least one person who will really benefit by your presence - your child. A new country, a new language, a new home and a new school - That's a lot for any child. Maybe he/she deserves a little help, don't you agree? And for you, it is a good chance to meet new friends and to get deeply involved in the community.
3. I don't have a lot of free time. What help can I offer?
Do what you can, when you can. We usually meet once a month, so why don't you just start by coming and having a look? Then, if you want to be involved in some of our activities, just raise your hand. Remember, it is on a voluntary basis. Just tell us your time limitations and we will work with you on a schedule.
4. What are some examples of PTA initiatives?
We promoted many initiatives each year, such as PTA lunches or dinners, weekend activities (Hutong Treasure Hunt, Ski Day, Ice-skating on the lake, trips and so on), Intercultural Day, ice cream and hot chocolate sales, etc.
5. But my English is so poor…
Please, don't be afraid. We are from many different countries. For some of us English is the second, third or even the fourth spoken language. Feel confident and come to our meetings, it's easier than you think. We will help you with translation. And…BISS offers English classes for parents.
We hope you will volunteer to help the PTA – your children will benefit by seeing that you care about their school and their education and BISS will benefit from your skills and efforts.