Tech for Parents Thursday December 3
Today was our Parent Technology Workshop. In this activity, we showed our learning to parents and teachers about technologies that BISS students might use at school or home. We learnt more about these technologies during our recent Unit of Inquiry about 'Technological Innovations' and each Grade 5 student wrote a research report about their chosen technology. The focus concepts in this unit were function (How does it work?), connection (How is it connected to our learning?) and change (How has this technology changed over time?) .
After the workshop, the class reflected on what went well, what was interesting and what can be better. Here are some of the students' reflections:
Positive
– There were a lot of parents and teachers who came to the workshop, they listened well and asked good questions.
– We were well-prepared and so we had enough to talk about.
– We were confident about what we were saying, spoke clearly and fluently and answered the parents' questions.
– Most of the technologies were new to the parents so it was easy to explain the basics to them.
Interesting
– Grown-ups spent their time this morning to learn about these technologies.
– They often asked us the same questions.
– We didn't always present what we had planned.
– While presenting, we found out something new about our technology.
What could have been better
– We didn't answer some questions very well.
– Some of us talked too quickly and/or at times forgot what to say.
– We weren't sure of how much knowledge the parents had about these technologies.
Thank you to the parents that came to our workshop and to Mr. Mac for guiding us our learning about these technologies. Check out more photos on our More Photos page.
By Nathan, Chihiro, Elio and Mr. Hawke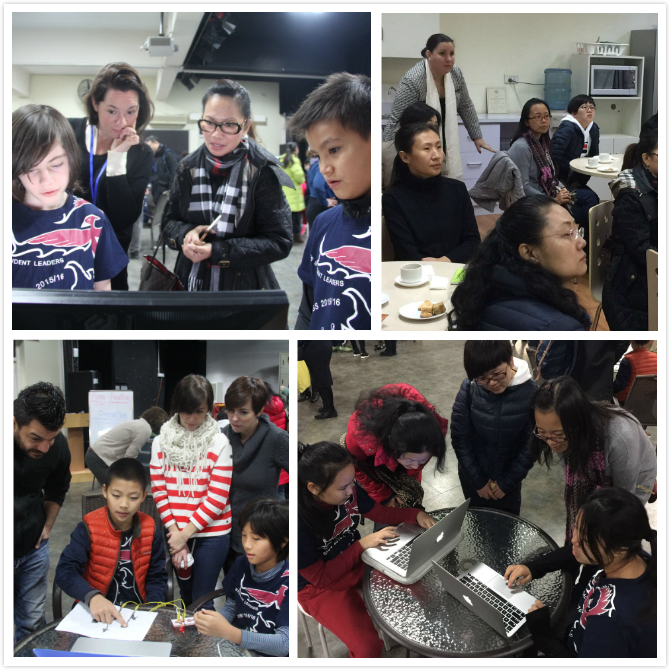 ?