Get well-prepared for overseas study applications despite the COVID-19 epidemic outbreak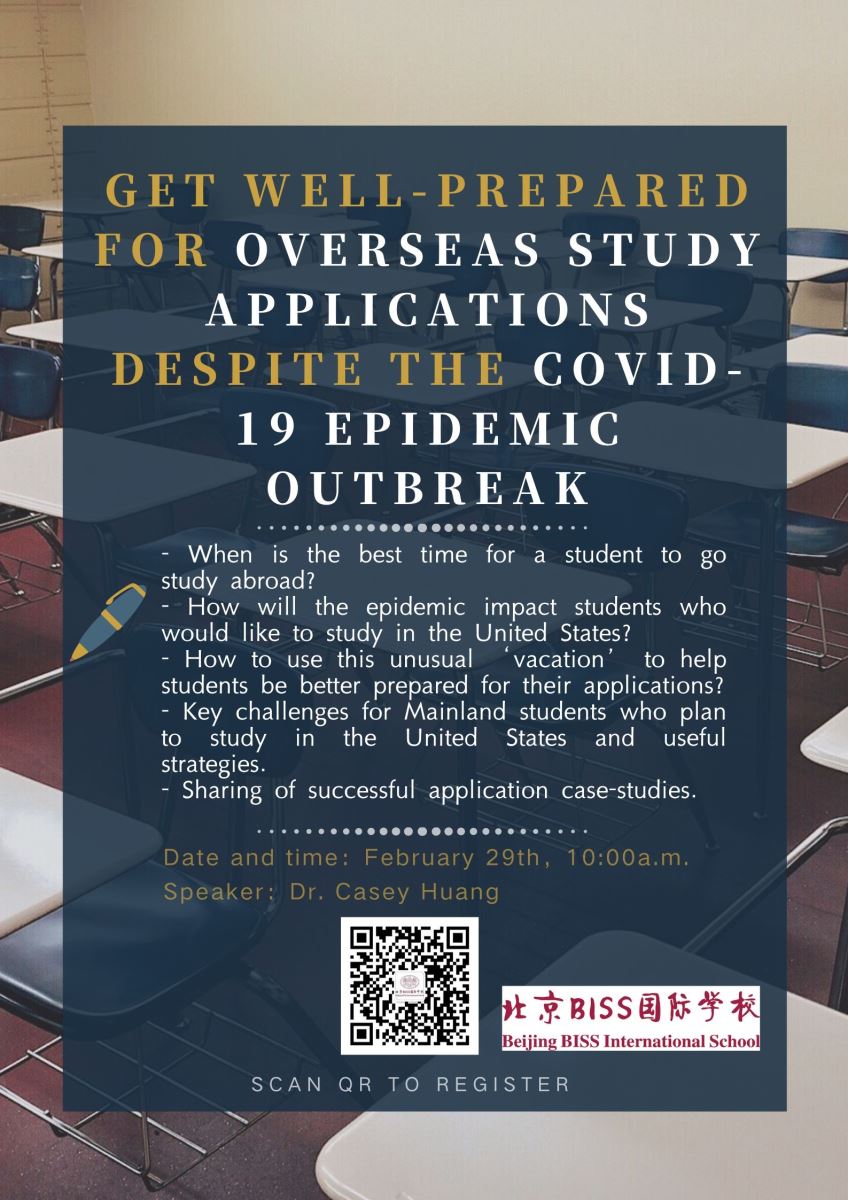 In order to prevent the rapid spread of COVID-2019, China has implemented strict measures against the outbreak, including travel bans and suspension of schools' reopening until further notice. In addition, some countries and regions have adopted immigration control measures. On January 31st, US Health and Human Services Secretary Alex Azar declared the COVID-19 as a public health emergency.
Starting from February 2nd, foreigners who have visited China in the past 14 days (except the immediate family members of U.S. citizens and permanent residents) are temporarily prohibited from entering U.S. According to a circular from the US embassy in China published on their official website, regular visa services for the US embassy in Beijing and the US consulates-general in Chengdu, Guangzhou, Shanghai, and Shenyang have been suspended since February 10, 2020. This public health event will, no doubt, have an inevitable impact on the US policies regarding overseas students who are in the middle of their application procedures to US schools and universities. Some language tests originally scheduled for February have also been postponed。
It is estimated that China had more than 700,000 students studying abroad in 2019. For students who are planning to study overseas, a great deal of preparations is required before they can move overseas and study abroad. The outbreak of the epidemic during this year's Spring Festival will not only directly affect students' preparation for overseas studies, such as exams-taking, admission confirmation, visa application, document modification, and pre-trip preparations, to name just a few, but it also affects the already confirmed school trips, most of which have had to be cancelled or postponed. Some Chinese students will even face the situation of not being able to return to the United States on time to attend classes. There will also be uncertainty in planning to attend summer schools or internships at US universities.
In the face of these abrupt changes and uncertainties, it is our pleasure to invite Dr. Casey Huang, who has more than 10 years of rich experience in assisting students in applying to American universities. Dr Huang is going to share with us how to best use this special time to cope with the possible policy changes and, meanwhile, to get well-prepared for the applications.
Topic:Get well-prepared for overseas study applications despite the COVID-19 epidemic outbreak
Date and time:February 29th,10:00 a.m.
Speaker:Dr. Casey Huang
Dr Catherine Huang is a registered Independent Education consultant in the USA. She earned her PhD in 2006. Before immigrating to the USA as a distinguished educator, she had 15 years working experience as a Dean in two universities in Beijing and other countries, including USA, UK, Greece and Switzerland. She is one of the Chinese pioneers to explore the low-age study abroad programs which aim to help Chinese students study in other countries.
Subtopics:
- When is the best time for a student to go study abroad?
- How will the epidemic impact students who would like to study in the United States?
- How to use this unusual 'vacation' to help students be better prepared for their applications?
- Key challenges for Mainland students who plan to study in the United States and useful strategies.
- Sharing of successful application case-studies.