BISS Parent's Online Sharing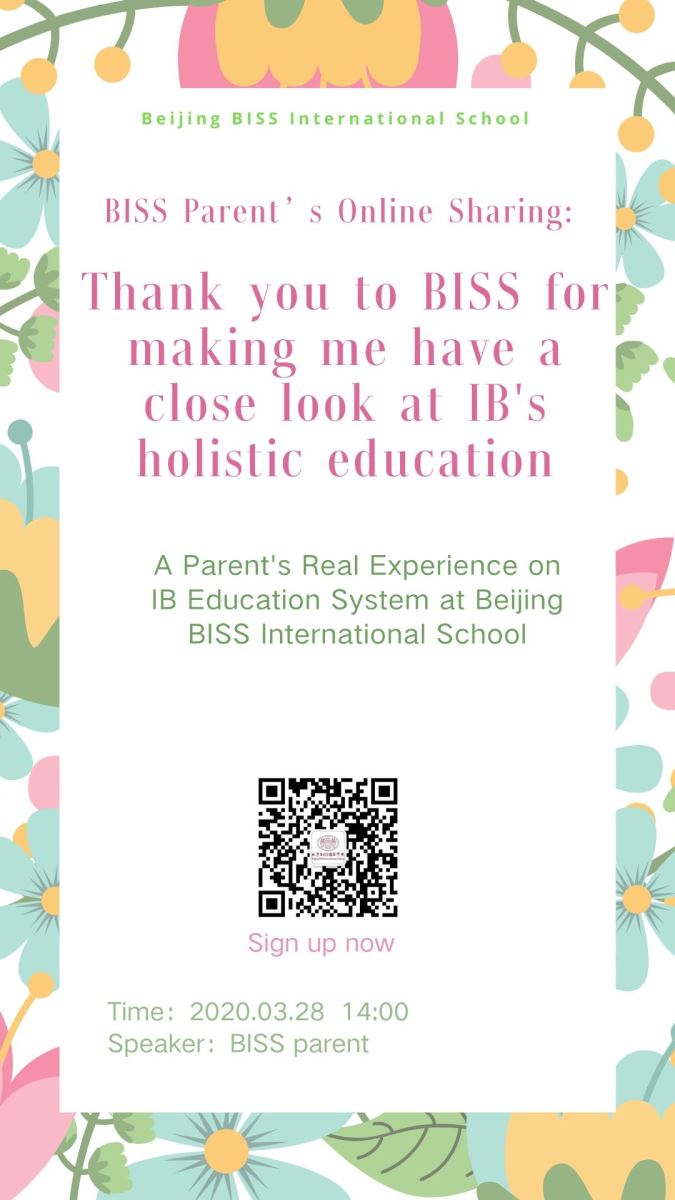 The author, Mrs. Zhang Liangyan, is the parent of a current Kindergarten class student at Beijing BISS International School. The mother got acquainted with Beijing BISS International School in the spring of 2019. At that time, Mrs. Zhang Liangyan came to BISS to attend the open day and participated in BISS grade 5 students' PYP exhibition. She was deeply touched by the vivid and in-depth presentations of BISS students. Mrs. Zhang saw that BISS students are confident when addressing the audience, they had conducted in-depth research and they are very serious when sharing their projects with parents. This exhibition had confirmed the holistic education that Mrs. Zhang has been pursuing and exploring. After that, Mrs. Zhang applied to Beijing BISS International School for her child.
The following is Mrs. Zhang Liangyan's autobiography. We hope Mrs. Zhang's insights can give you some ideas when looking for the right school for your child.
We were living in Hangzhou when I decided to enroll my child in BISS. Everyone around me advised against migrating so far just for a school, especially that my family members were all in Hangzhou. But I made my decision. The story started last Spring with an open house activity at BISS.
On April 17th, 2019, I participated in an Open Day at Beijing BISS International School, and listened to a comprehensive introduction of the IB system presented by both BISS Head of School and Principal of BISS. I learned a lot about the PYP, MYP, DP teaching methods, goals, and other aspects of the IB pedagogical system. BISS pays special attention to the curriculum, in hope of finding parents who believe in holistic education, which is the essence of IB Curriculum. I also learned about the inquiry cycle of IB teaching and learning, in which teachers and students engage in ongoing development. Then I looked at the 5th grade children's exhibition. Looking at how the children independently managed each booth, introduced their projects like adults, gracefully invited the parents to fill in the feedback forms, as well as selected 'sustainable development' as the theme of their presentations, I was deeply impressed. I saw that these children fit my vision. That they are truly mature and free to bloom in love and kindness. I really felt that as a parent, I would like to see my child become one of them. As such, I applied, got interviewed, and finally received an offer.
Now, my daughter has been studying in Beijing BISS International School for almost a year. As a parent, I have an opportunity to observe the growth and transformation of my child from several aspects in such a small and fine campus environment. This also gave me a chance to better understand the IB education system and gain a deeper and more comprehensive understanding of BISS teaching methods.
BISS is small and sophisticated, the teacher-student ratio is high, and the children can get high attention from the teacher. BISS places high value on personalized support. My daughter is so curious that she can easily be attracted by new things. The teacher observed my child's curiosity and communicated with her and myself carefully. This is what makes BISS special.
As parents, we all know how important it is to choose the right school for children, and the final decision regarding school choice is usually difficult. During school fairs we can see all kinds of schools and a wide variety of courses, and the process is always full of entanglements and anxiety. In order to help more families to choose a suitable school, BISS invited BISS parent, Mrs. Zhang, to share her experience related to selecting a school for her child. We hope Mrs. Zhang's experience will give more parents a clear vision of international schools, IB curriculum and holistic education.
On March 28, in an online session, I would like to share with you my experience as a parent whose child is studying at an international school, and tell you about my child's growth and development. I will discuss the following topics:
- Experience of IB Holistic Education at BISS
- How does IB education system facilitates students' learning?
- The community of BISS
- Students' Growth and Development fostered at BISS