Congratulations to BISS 2020 Graduates
On Friday, May 22nd, Beijing BISS International School held an online graduation ceremony for the graduating clas of 2020. The whole BISS community witnessed this wonderful moment together through a designated online channel. Congratulations to our 2020 graduates, who are now ready to embark on new adventures in their lives.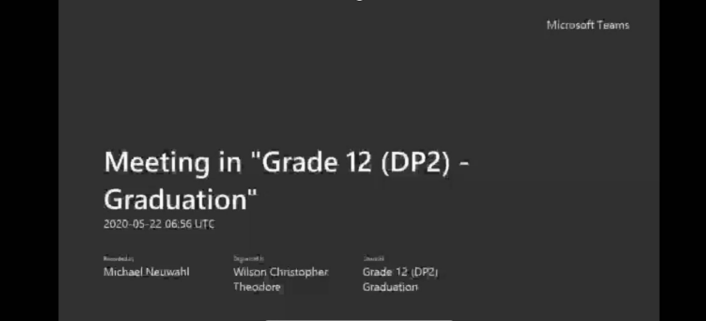 Online graduation ceremony
The 2020 graduates achieved great results and received offers from world-class universities, including University of Rochester, University of Illinois Urbana-Champaign and Universiti Teknologi MARA. As one of the first International Schools in Beijing, authorized to offer 3 IB programmes (PYP, MYP and DP), BISS has a long and proud track record of high DP exams pass rate, with hundreds of alumni being accepted to top universities of their own choice, to name a few, UC Berkeley, University of Toronto, and University of Bath.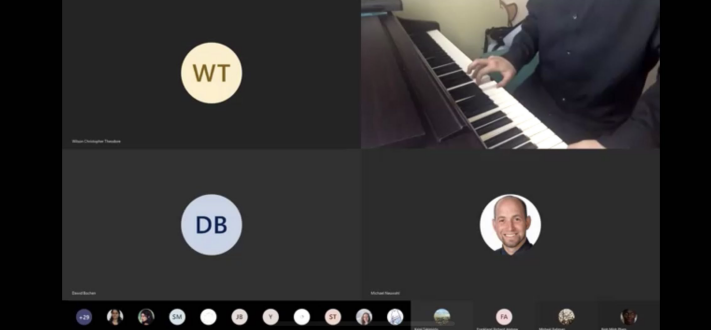 BISS grade 12 student performing during graduation ceremony
Due to Covid-19, BISS 2020 graduates had to go through a very special period of time. As BISS counselor, Mr Christopher Wilson said: "Current education has been transformed, mutated and propelled into cyberspace, creating remote virtual online learning environments filled with a vast array of social, emotional and personal challenges but also numerous hidden opportunities to grow, change and develop into a better version of ourselves – more empathetic, more caring, more resilient and more principled."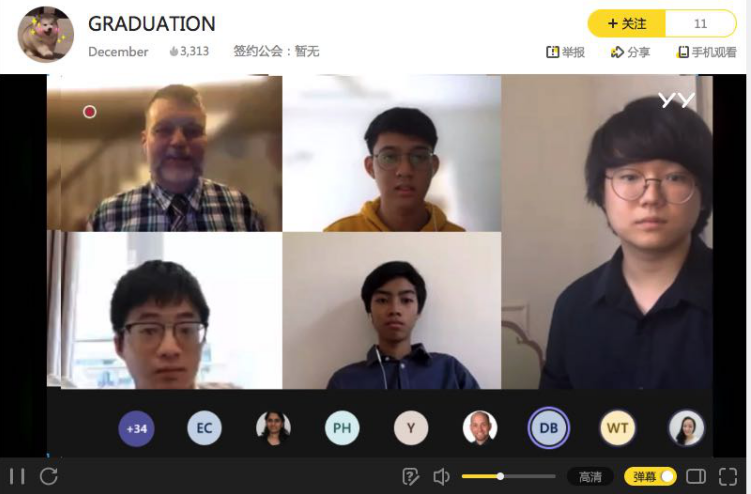 Online graduation ceremony
Although this year's graduation ceremony was held online, the academic team of BISS made a lot of preparations for the online event in order to create a festive atmosphere and a sense of achievement for all graduates.
Mr Wilson, as the host of ceremony, started with listing the advantages of IB and BISS curriculum which prepares students for further education in world's top universities. "Recent academic research has shown that DP students are better prepared for universities than non-DP students. For example, according to a study by the Higher Education Statistics Agency in 2016, IB Diploma students were more likely to obtain first-class honors degrees than non-diploma students, and a study in 2014 found that diploma students achieved much better results in science and mathematics courses in UK universities than non-diploma students. Therefore, we can all be confident that our BISS 2020 Graduates possess all the right knowledge, skills, abilities and attitude to successfully complete their elected undergraduate degree program at top universities in America and Malaysia, and make good progress along their chosen career pathway leading to a happy, self-satisfying, personally rewarding and productive future."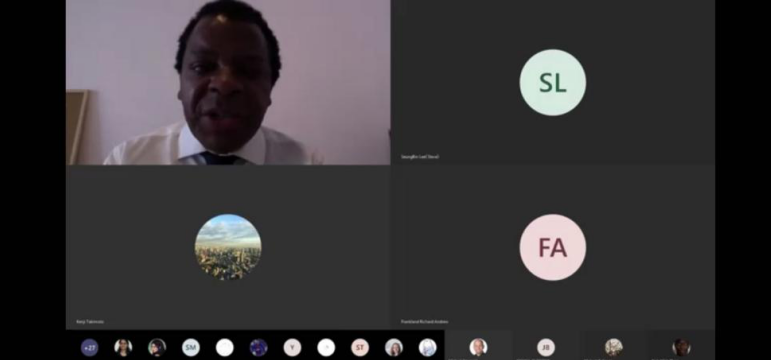 Mr Christopher Wilson, BISS counselor
Addressing the uncertainty of contemporary world, Mr. Dawid Bochen, the Head of School, expressed his hope that every graduate can embrace his/her future with a positive attitude, every day of their lives, not waiting for better times. "For the past months we lived in uncertainty about how we will make it to this point. But here we are today, or actually here and THERE, as we connect from different parts of the world, with many uncertainties behind us and with new uncertainties to come. But crossing the threshold of adulthood, you will have to learn how to cope with it, as well as decide what, when and how to do" said Mr. Bochen. "Stay positive no matter what and never give up. You determine your future and the future of those who join you in the journey of your life."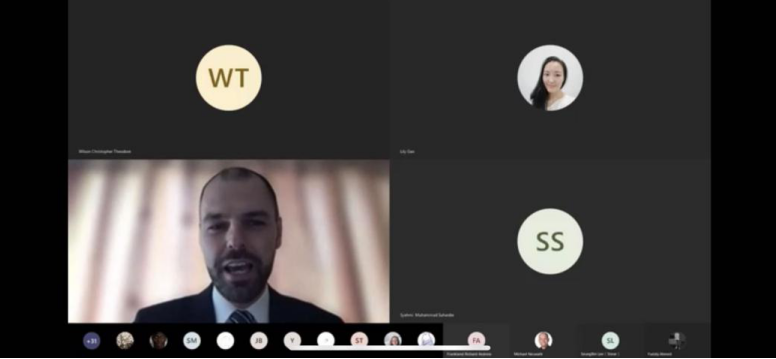 Mr Dawid Bochen, Head of School
During the ceremony, the grade 12 graduates shared their reflections and gratitude towards BISS teachers, who helped to raise their passion for inquiry-based learning, habits of critical and creative thinking, and most importantly, empowered them to become true independent life-long learners. In their eyes, BISS is like a family that has carefully nurtured their curiosities and ingrained in them open-mindedness and respect for diversity.
"I believe that every one of us who graduated has reached our accomplishments and goals. If I was asked to write down what brought us to today's graduation, I would say dedication, persistence, honesty and hard work. I think we can now say that we have won, and my friends and I are all winners. We demonstrated hard work and dedication to all, thank you. "
BISS G12 students Fadzly Ahmad
"I have studied in many schools, private schools and public schools in the United States, but BISS is most different. It is a unique, amazing and small community. As I grew up, I experienced many difficult moments, but fortunately, BISS helped me to go through these difficulties. Without BISS, I would not be able to make it and stand here today. BISS is a community that always feels like a big family to me and I have never ever had this kind of feeling in other schools. I will always remember this experience in BISS for the rest of my life, because I not only reaped the academic growth, but also the growth of life. BISS has made me a better self, especially thanks to the teachers and classmates who helped me on my way to success."
BISS G12 students Ruofeng Jiang
"Among many teachers, I am most grateful to Dr Esther Kim, perhaps because she speaks Korean, she always tried to talk with me all the time and tried to answer all my questions and helped me. Also I would like to thank my music teacher, Mr Peter Herrera, who always gave me good ideas and respected my time to practice. He really influenced my musical ideas and thoughts. He also offered me chances to teach younger students and made me the co-director of the school musical. Those were the memories which will never ever be forgotten."
BISS G12 student Steve Lee
"As you may know this is actually my first and only year in BISS. But throughout my whole school life so far, this year really stood out to be most fruitful. I really enjoyed studying here because of friendly and caring teachers and the community as a whole. BISS teachers are always helping us to become better people, both academically and in life. This is different from the schools I have stayed in before. The teachers are like friends here, and communicating with them is particularly easy and pleasant. In class we could always ask as many questions as we wanted. I really want to thank my teachers, parents and classmates for helping me to develop many skills and become the person I am today. "
BISS G12 student Muhammad Suhardie
Towards the end of the ceremony, Mr Glen Pamment, BISS K-12 Principal, presented the academic awards and gave the closing speech, in which he discussed dreams with graduates. "BISS graduates of 2020, I want you to remember one thing, you do not need to have a dream. You will hear many motivational speakers tell you to have a dream and follow your dream. Dreams are great things to have, but sometimes people get caught up in their dreams and forget to live their lives. Some people say life is short, but it is the longest thing you will ever do, that being said, it will be over before you know it. If you are too busy focusing on the future you may just miss what you have today, and that is what is important, you need to live in NOW. If you are open to chance happenings and coincidences, you will be surprised where they can lead you. Live your life the best you can. Take pride in what you need to do and make it the best that it can possibly be. Help others and make them happy, you will be surprised at how happy that makes you feel."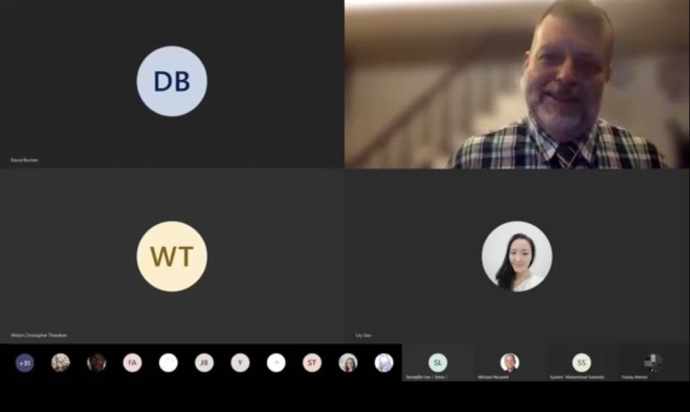 K-12 Principal Mr Glen Pamment
Year 2020 turned out to be an extremely tough year, with many challenges facing the world. But as the quoted by Mr Bochen during graduation ceremony author Kurt Vonnegut said, we hope that through those experiences and through what they have learned at BISS, our graduates will be "granted the serenity to accept the things they cannot change, courage to change the things they can, and wisdom always to tell the difference."